Job fair at the University of Bialystok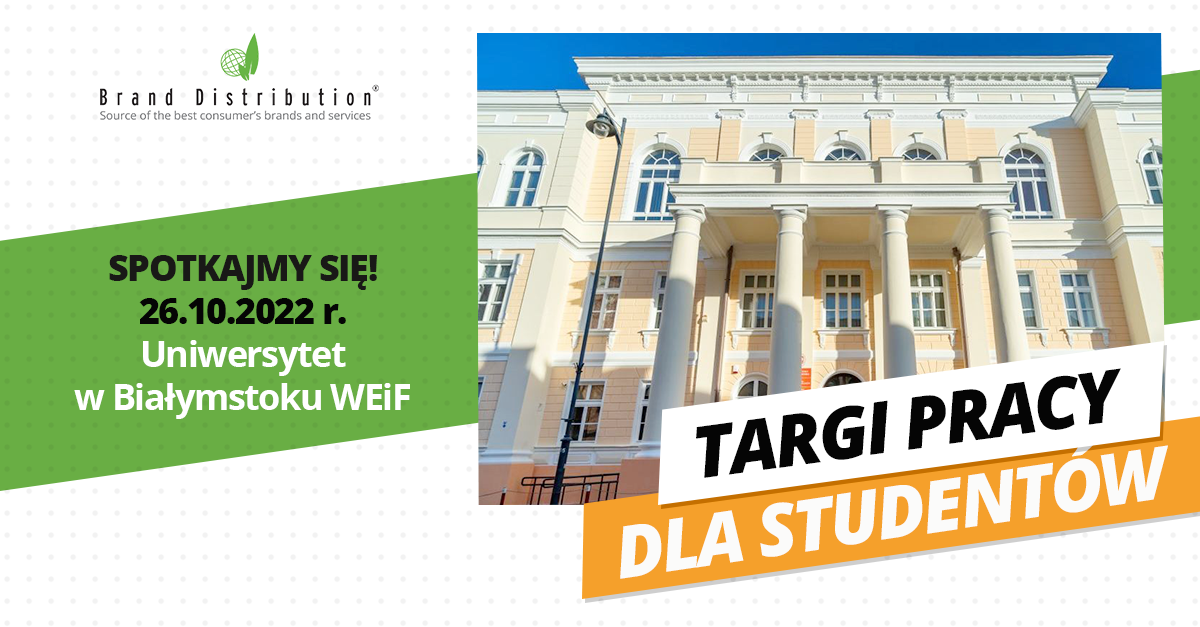 ---
Let's get to know each other! Brand Distribution at the student Job Fair
At the invitation of the University of Białystok, on 26.10 we took part in a student Job Fair. Brand Distribution was represented by a strong team from the HR department and our colleagues from the Export and Purchase department. It was an opportunity to talk to students who are at the threshold of important career decisions and to get to know their needs better, as well as to present what opportunities are offered by working for our company and why it is worth choosing the FMCG industry for a start.
– Meetings with students are of particular importance to us, because it is an opportunity to meet many interesting people who are at the beginning of their career path, want to develop and are not afraid to take on new challenges. This is exactly the kind of person we look up to, because it is important to us that someone 'wants to'. – says Magdalena Tumiel, HR Director at Brand Distribution Group – We take care of the rest. It is up to us to ensure a positive career-building experience and to provide the right knowledge and skills for this," she adds.
The first steps on the job market are not always easy. At Brand Distribution, we believe that a lot depends on personal attitude. People with initiative, entrepreneurial spirit and a willingness to expand their knowledge will always find a place with us and have the opportunity to grow.
– Many of us started from the position of assistant," says Ania Muszyńska, who heads one of the sales teams in the Export Department. "It's a great time to learn what working in export is all about and a chance to develop within the company's structures," she adds.
The Job Fair is also a time for recruitment. Students interested in taking up a position as an Assistant in the Export or Purchasing departments could consult their CVs with colleagues from the HR department on site.