The great Huggies campaign – midwives will provide the layette for mothers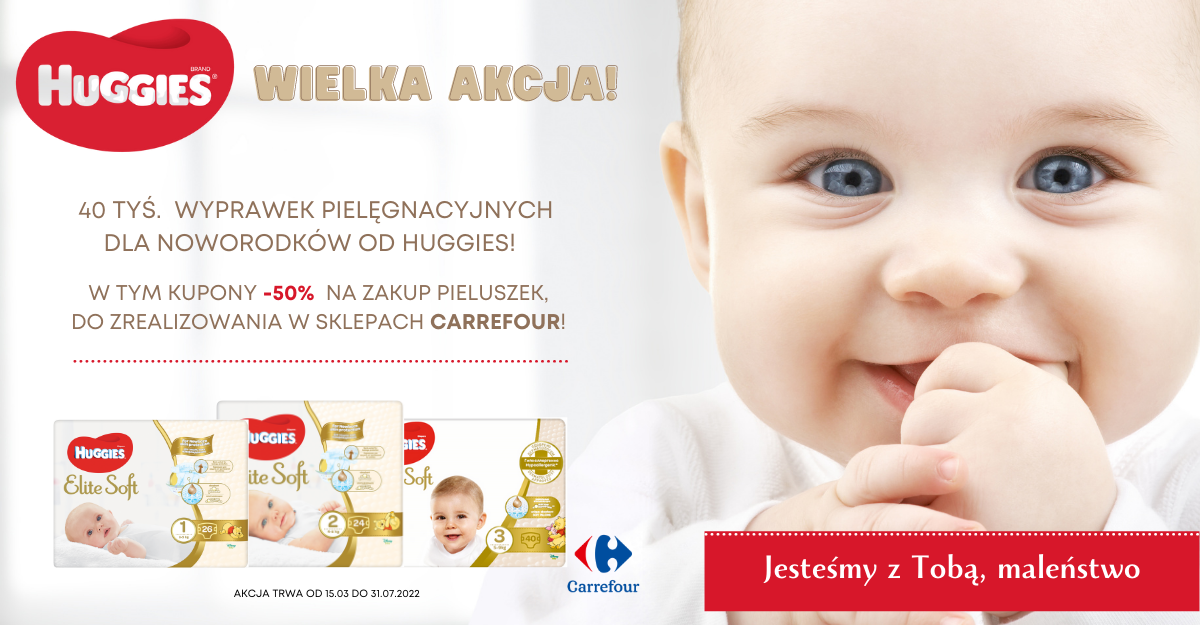 ---
The great Huggies campaign – midwives will provide the layette for mothers
40 thousand moms and their newborns will receive a Huggies layette with care products. Packages will be distributed by midwives who know best the needs of both: mothers, and babies. In addition, the layette will include a Carrefour coupon with a one-off 50% discount on Huggies Elite Soft diapers.
The Huggies brand, distributed in Poland exclusively by the Brand Distribution Group, is known worldwide not only for the quality and safety of products, but also for commitment to building relationships with those who look after children from the first days in the hospital. Midwives know best what works when it comes to care and hygiene of baby's delicate skin from the very first days. They are the ones who will make sure to provide the proper products from Huggies. We take the motto "We are with you, baby" literally and we want to accompany mums through their parental journey from the very beginning.
– Huggies is a brand known in Poland for many years as a synonym of product quality and good care for the comfort and safety of children. The layette campaign is part of a wider global Huggies campaign to raise awareness of proper skin care for babies from day one. The materials from which Huggies diapers are made have been developed bearing in mind the delicate babies' skin: they are plant-based and dermatologically tested. We want the first nursing experience for mothers and their babies to be the most pleasant, and with safe Huggies products it can stay with them for longer – emphasizes Robert Łobko, Marketing Director of Brand Distribution Group.
A layette means support for every mother, regardless of the special needs of their children. Huggies offers diapers in all sizes. They are suitable for the delicate skin of children, hypoallergenic and are made of soft, safe and breathable materials. A special layer protects from irritation, and diapers can absorb moisture even throughout the night. They also provide excellent protection for even the most mobile movers. Models for slightly bigger children support them in potty training, and a stretchy pocket in the rear waistband and a wetness indicator make it easy to use.
In addition, Huggies will provide each mother with a one-off 50% discount Carrefour coupon for Huggies Elite Soft diapers. The coupon for sizes 1 and 2 will be valid until 07/31/2022, and for size 3 from 01/04/2022 to 31/10/2022 in all Carrefour stores in Poland
About Huggies: Huggies brand is one of the fastest growing brands in the world and the world leader in disposable diapers and wipes for babies and toddlers. Huggies were first introduced to the market in 1968, they are available all over the world, in Poland exclusively by BDG distribution.