The team is the greatest asset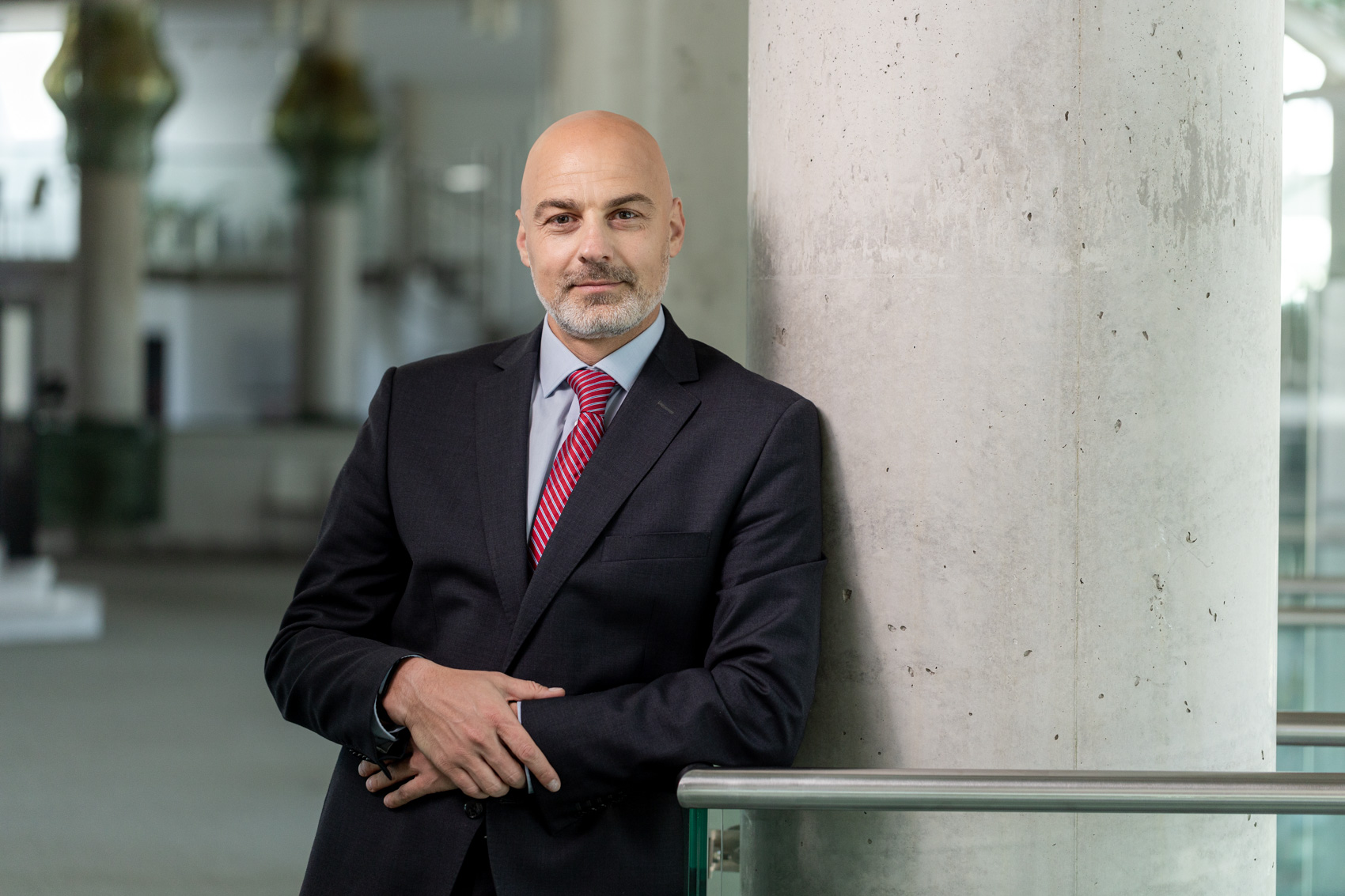 ---
Brand Distribution Group – a global importer and distributor of FMCG goods – is celebrating its 30th anniversary and announcing an important new stage of development.
Armen Papazjan, CEO of Brand Distribution Group, emphasises that success in business does not depend on individual skills but primarily on a cohesive team. The foundation of his beliefs comes from experiences gained in sports. As a long-time water polo player, national representative, and winner of many medals, and currently a water polo referee, he understands the role of teamwork in achieving goals. He successfully applies the skills and knowledge acquired in sports to lead a company that achieves record-breaking results.
Although seemingly different, managing a business and engaging in sports have many common characteristics.
I can list many points of commonality, but for me, the key ones are team building, strategy and planning, motivation, commitment and passion. In my opinion, these factors are crucial for success. However, the team is the most important to me. One person cannot achieve spectacular results in today's complex and competitive business world. Teamwork allows us to leverage individual skills and experiences, which in our case, translates into optimal utilisation of the designed processes within the company, creating innovative solutions for customers and achieving planned results. I adhere to the principle: We are as strong as our currently 200-strong team.
What does it take to build an effective team?
The leader's figure is the key to building an effective team – just like in sports. It is up to them to earn employee trust and build belief in the organisation's purpose. Other essential factors include respect, a sense of security, and the awareness that an employee can rely on their superior in any situation. A good leader makes everyone in the team feel important and valued. Only then can we talk about an effective organisation?
How do you assess yourself in the role of a leader?
I am a demanding person, but first and foremost, I demand a lot from myself. I don't see any other way to motivate the team. Positive and negative examples always start from the top. I listen to my colleagues. I support and trust them. I try to advise and help them whenever they need it. I appreciate their sharing ideas, solutions, and feedback for our business's development. The doors of my office are always open to them.
A well-led team achieves more. Where is the Brand Distribution Group currently?
We are in a perfect position, but we aim higher. This year, we celebrate our 30th anniversary, which marks a turning point in the development of our company. We are achieving record-breaking results both financially and in terms of scale – last year, we dispatched over 150 million products from our warehouses. We deliver FMCG products to customers worldwide, meeting the expectations of diverse consumer segments. We are present in 100 markets on six continents. However, that's not all. We are investing in new trade destinations. Our offer includes A-brands, both popular and niche, and it is constantly expanding based on our organisation's unique knowledge of market and customer needs. We adopt complementary services to the changing reality, which we provide alongside our core distribution activities. By that, I mean a full-service package: marketing, pre-sales preparation of goods according to the requirements of serviced markets, customs clearance, transportation, logistics, and after-sales support.
Are you satisfied with the results achieved by the Group under your leadership?
Definitely yes. When I joined BDG in 2021, the company was not meeting its goals. We started with restructuring. We supplemented the existing teams with new talents. In this way, we reduced their previous workload, and the unique individuals brought not only energy but also their experience and ideas. We knew that a challenging time lay ahead of us. We examined market segmentation and created it to be even closer to our customers. We began fully utilising our sales potential. And then it was just forward momentum. We closed last year with a result 40% higher than the planned target. We are maintaining a good pace this year as well. And although we have achieved success, we are still working on processes that will ultimately streamline our business. We are becoming an increasingly flexible company that reacts exceptionally quickly to dynamic changes in the global economy, consumer needs, and consumption styles. We are incredibly proud of this ability because it allows us to respond to what reality brings. This is an invaluable skill in today's unpredictable world.
What were the initiated changes about?
Brand Distribution affected all levels of the organisation, including the management structure, and implemented the changes systematically. We examined all processes vis-à-vis the plans, optimised operational activities, and adjusted the company's layout accordingly. We worked on the organisational culture, internal communication, team building, and a new remuneration system. Today, we are a modern and robust company, adapted to the pace of market changes and fully ready to fulfil the mission of a global FMCG distributor. We would not have succeeded without belief in success, determination, and people's ambition.
What did you feel while leading the company through this process?
I felt a tremendous responsibility. On the one hand, I was confident in my decisions. I have many years of experience in the FMCG industry, knowledge, and skills, but at the same time, I was aware of the risks. However, as an ambitious person who loves sports, I would lie if I said these challenges don't give me adrenaline.
However, the moral of this story is entirely different. The greatest asset of any company is its people. If we create good working conditions and opportunities for their development, achieving set goals is only a matter of time. In an era of social and generational changes, caring for their well-being is fundamental.
BDG is an internationally operating company. You are present on six continents, operating in 100 markets and serving significant players. What are the further plans?
Stagnation in business is a worrying sign. At first glance, it may seem like a comfortable situation, but it is not. We need to observe changes, and we are excellent at that. We keep our finger on the pulse of the consumer. We continuously expand our product offering. For example, this year, we created a department dedicated to the alcohol market. We study and analyse how this market and consumption patterns are changing, so we have acquired producers and suppliers from different world regions. They guarantee the delivery of products that meet the current demand. Operationally, we have expanded our warehouse space in central Poland. This allows us to assemble customer orders even more efficiently.
We are opening up new markets. We have added an office in the USA to our offices in several European and Asian countries. We closely examine needs and diversify our offerings and services according to specific local expectations. I'll confess something. I like to play and win, and my people are with me.
This year, you are celebrating an anniversary. What development path does the Group's strategy envision?
"Trust the experienced. Aim higher" – our new slogan says much about us and our capabilities compared to competing companies. We plan to increase our global reach in sales and procurement. We aim for a strong diversification of sales channels. The current company strategy focuses on strengthening our presence in the UK, Spain, Italy, China, and India. We are also exploring and assessing the potential of African markets. We see tremendous development potential there. We are expanding our collaboration with the modern market, meaning retail chains in Poland and worldwide. Based on our experience operating in numerous markets, we have built a procurement team that provides retailers a unique offering tailored to their needs.
We have created the concept of modern hard discount stores under the brand Vollmart. The decision to enter this market is a response to the rising cost of living and consumers' increasing expectations regarding the quality and price of products. Although we are only at the beginning of this journey, we know we are heading in the right direction.
We are also developing our e-commerce channel. We are present on major marketplaces, but we are also significantly expanding our own online sales channels. An example of this is Vollmart24.pl.
What would you say to a company considering partnering with Brand Distribution?
We have the best team possible; this statement is not cliché. We employ 200 experienced professionals in various departments. We speak 16 languages and are in the most important markets worldwide.
We adhere to the principle: business is about people, and people are about relationships. We take care of them, which is why we can achieve more. We have a valuable network of trade contacts. We provide comprehensive services to our clients. We offer complementary services so that our business partners can focus on developing their own companies while leaving holistic professional support in good hands.
But something else sets us apart and positions us as leaders – our values: passion, commitment, reciprocity, knowledge, and trust. These are what make us unique. Just as in life, values are our guiding principles. Thanks to them, we have collectively reached the position we are in today.
I want to emphasise that it is essential for us that our partners feel that we are on the same team and that our definition of a team goes far beyond the organisation's internal structures. Reid Hoffman said, "No matter how brilliant your mind or strategy if you're playing a solo game, you'll always lose out to a team." I fully agree with him.