30 years with the best. For the best.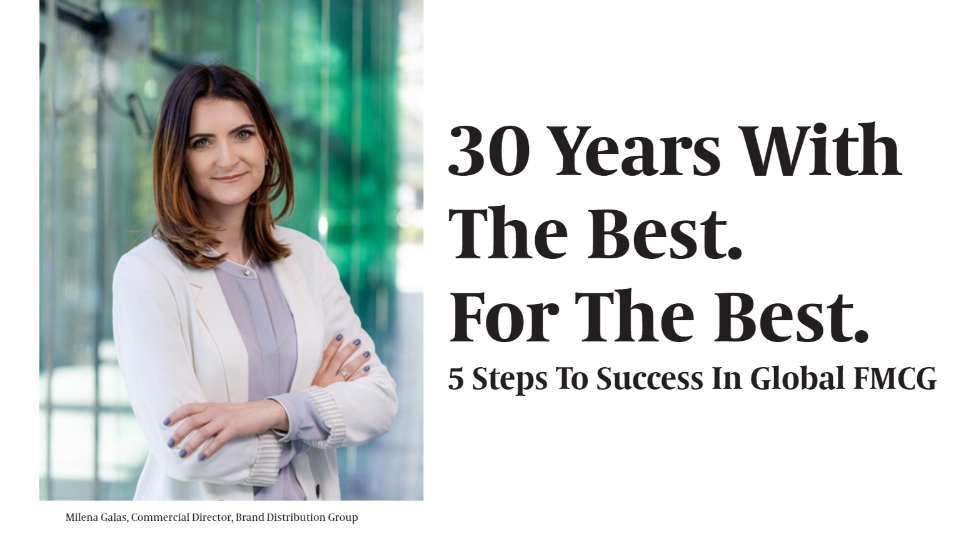 ---
The origin of the Brand Distribution Group dates back to 1992 and is rooted in Białystok, north-eastern Poland. The past decades have been for the small trading company an inspiring journey to an international distribution group active in 100 markets. The company has been redefining global trade standards every day for 30 years. Milena Galas, Commercial Director, and the managers of commercial and purchasing departments at Brand Distribution Group reveal the secrets of its success.

The Greatest Assets are People
The greatest success in business is achieved by companies that understand that people are the greatest asset. "Our goal is to support the ambitions and creativity of our employees, improve their competences and reward performance. We are not afraid of structural changes and we're actively seeking new experts" explains Milena Galas, Commercial Director. Lots of employees have been with the company almost from the beginning, others started cooperation in 2022 and are creating a new chapter in the history of the Brand Distribution Group. "Last year's biggest challenge was to put the commercial structures in order. We have created 3 operating regions responsible for different geographic areas. Thus, our teams can focus on specific markets and develop their competences and the knowledge about the particular countries' needs."
"To enter a market, you must understand the local culture and adapt your work style and the product offer" adds Laura Rizescu, South Region Manager. "What matters in Asia is the speed of response – our Contractors work 24/7, they expect an instant response, attractive prices, and the fastest possible delivery. In Arab countries, merchants love long-lasting negotiations, Europe, on the other hand, demands a creative approach to orders – Contractors are looking not only for attractive prices but above all, for products that will make their offer stand out on the market. Therefore, our work requires not only commercial experience but also being curious about the world, and flexibility."
BRAND is All You Need
The world abounds in companies specializing in FMCG distribution. How to ensure your company's success? The secret is systematic review of the portfolio, careful monitoring of the markets and local trends. "Trading in recognizable brands is no longer a challenge. Consumers have diversified expectations and hunger for novelties. We regularly evaluate distribution brands – we verify the sales and market potential, price positioning and marketing strategy" – explains Milena Galas.
"Last year showed that smaller manufacturers have become a serious competition for the renowned global brands. Due to the economic and political crisis in the east, the demand for cheaper products that still guarantee high quality is growing", says Alena Cimoch, East Region Manager. Asian and European markets differ in their specificities. "Asian markets are greatly attached to love brands – original, recognizable products. On the Iberian Peninsula and in French-speaking countries the importance of healthy foods, dietary supplements and products with organic certificates is growing", lists Laura Rizescu.
"There is a huge Muslim diaspora in France, Sweden and in the Balkans, which is why Halal certified products are in great demand. Meanwhile, in the Arab countries, there is a growing popularity of European ice cream, drinks and non-alcoholic beers. An interesting trend is also the growing popularity of the pet food category: premium foods and delicacies which can be used to spoil your pet" – explains Eliza Solecka-Boczkowska, West Region Manager.
The product portfolio is kept attractive for customers by purchasing department run by Urszula Susoł. "We are constantly looking for innovations around the world, we monitor prices of hundreds of suppliers and anticipate trends. Our regular offer includes only proven brands. We also create seasonal catalogs, develop the impulse and premium products offer and build individual offers based on our Contractors' briefs".
Get Ready for the Worst, Expect the Best
Over the past 30 years the markets have experienced many crises. Current crisis caused by the armed conflict in Ukraine is therefore not the first faced by Brand Distribution. "Immediate adaptation to the current situation is the trait our contractors value most. Already during the pandemic and the related challenges, such as broken supply chains, we supported our Clients in production, logistics and even marketing, delivering millions of necessary products from every part of the world" – says Milena Galas.
Experience and flexibility of the experts from Brand Distribution have allowed to successfully rise up to all the challenges of the current situation in the East. "World economy is one integrated organism. You cannot eliminate one link without losses on the part of the others. Russia was the main source of supply for numerous eastern markets – our goal was to secure the needs of those countries", explains Alena Cimoch.
Think Local, Act Global
Brand Distribution Group never forgets about its roots. "We are from Poland, and we proudly support Polish manufacturers in achieving global success", declares Milena Galas.
Polish products are renowned for their excellent quality and attractive prices. "We don't even need to advertise Polish sweets and household chemicals, their quality speaks for itself", emphasizes Alena Cimoch. "Poland is a huge exporter of meat and agricultural products to Arab countries", adds Eliza Solecka-Boczkowska.  "There is a lot of interest in Polish vodka and beer – not only the leading brands but also craft products manufactured from the grain to the bottle", says Maciej Małecki, Business Development Manager.
The purchasing department forecast a further increase of the interest in Polish products around the world. "Last year was a breakthrough for us in terms of the sales of Polish products of smaller brands. Polish sweets, snacks and drinks have had excellent reviews abroad, which is why we are opening up to new categories: cosmetics, pet food, etc.", says Urszula Susoł.
"Can-do" attitude
Lack of readiness to make changes is one of the biggest problems faced by companies with many years of experience. Brand Distribution Group employees, though, are certainly in no risk of falling into a routine. "We are a team raising the bar higher every day. We improve processes, expand the portfolio and the range of the provided services. We open new branches, markets and channels, including e-commerce. 2023 is all about the quality – a trade marketing unit is being launched; product marketing has been transformed into trade marketing. We are also building a unit that will work directly with key account managers of retail chains at international level", explains Milena Galas.
Relations with customers and their satisfaction are of utmost importance for Brand Distribution Group. "Our goal is short lead time. We offer comprehensive services: work on a ready-made portfolio, search for special order products, customs clearance, logistics… Everything is on us!", enumerates Eliza Solecka-Boczkowska. "Purchasing department effectuate custom orders, ones that even go beyond the FMCG products portfolio. We solve crises, organize complicated transports. We are open to any topic, even difficult categories such as frozen food or fresh products" says Urszula Susoł.
In 2022, Brand Distribution Group has been licensed for spirits, which allowed for a new project managed by Maciej Małecki. "We are creating an autonomous business unit with our own marketing plan and commercial structures. We intend to build a strong portfolio of alcohols for large customers and the HoReCa sector. We carefully select products, partake in alcohol and bartending trade fairs, source interesting contacts with manufacturers of brands that are worth presenting to consumers".
One of the services provided by the Brand Distribution Group is the consolidation of goods. "We build multi-category orders to relieve buyers and to reduce transport costs and the carbon footprint. Thus, we send a mixed container to the end of the world and secure the needs for all categories." – explains Alena Cimoch.
"We help organizations around the world to save time for things that matters. Our mission is pursued through comprehensive commercial, marketing and logistic solutions provided by a team of professionals. 2022 was a challenging year for the world, yet we closed it with a record-high financial result. This year, on the occasion of the company's 30th anniversary, we are planning special campaigns and offers for current and new contractors. You will definitely hear about us in future!", concludes Milena Galas.
Brand Distribution Group employees frequently repeat their favorite motto: "With us, anything is possible!" and there, probably, is the key to the company's success.